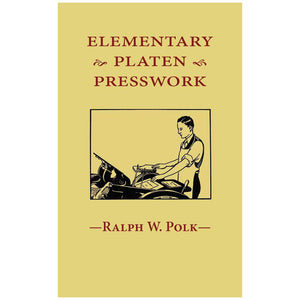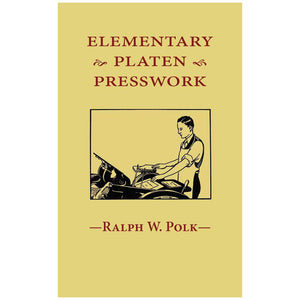 On Sale
Elementary Platen Presswork
Platen presses were the essential engines of the printing trade through the late 19th and early 20th centuries, but these once-ubiquitous letterpress machines gradually gave way to more efficient offset and digital technologies. By the late 20th century, platen presses had all but disappeared from the landscape of commercial printing, relegated to junk heaps and back rooms.

The past two decades have seen a remarkable revival of interest in the art and craft of letterpress printing, and a new generation of craft printers has breathed new life into these elegant iron workhorses of the past.

Originally published in 1931, this concise manual of presswork has guided generations of printers through the basic operation of platen presses. Everything is covered here, from hand-setting type, to adjusting the press bed, to regulating ink coverage and impression depth. Advanced operations such as scoring and die-cutting are also discussed.

Polk's clear and accessible writing style has made this book a favorite among hobbyists and professionals alike, much sought-after on the used book market. A must-have primer, shop manual, and desk reference, it is now available in an affordable paperback format for a new generation to enjoy.
Paperback, 160 pages.