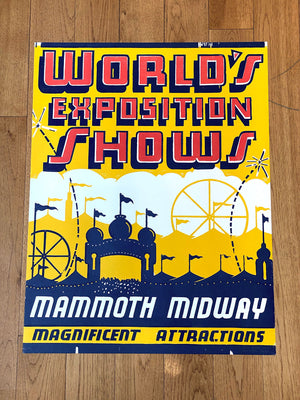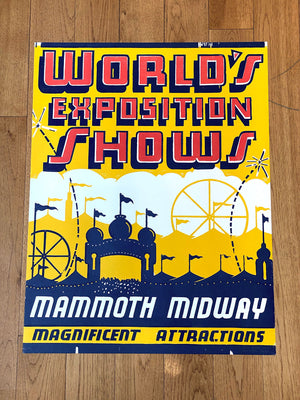 On Sale
World's Exposition Shows Print
A magnificent piece of promotion for a traveling variety show that advertised "magnificent attractions," the World's Exposition Shows was one of a number of traveling variety shows that called upon Hatch Show Print to design and print eye-catching advertisements in the late 1930s.

Originally carved on September 1, 1939, according to the business records, today this exuberantly lettered one sheet restrike is printed from three blocks, that are inked by hand each time they're printed in the twenty-first century.
Before, after, and since Barnum & Bailey, and Ringling Brothers, carnivals, circuses, and 'expositions' of all sizes and stripes have toured the land, thrilling kids and adults with rides, deep fried everything, and the oddball attractions that set their show apart.
Will T. Hatch and his staff must have dreamed about stunning carnival and midway scenes in their sleep, the shop had so many clients in this genre of entertainment.
Designer's Notes
Size: 25.75" x 30.50"
Restrike of historic carnival variety show advertisement.
Letterpress print.
Printed on a Babcock Optimus 6 (originally) and a Vandercook 28-42.
Handmade in Nashville, Tennessee.