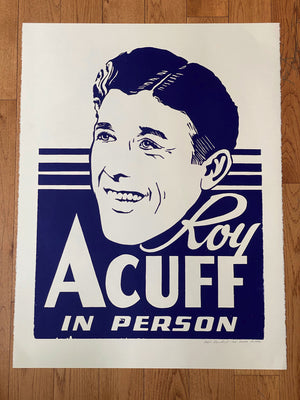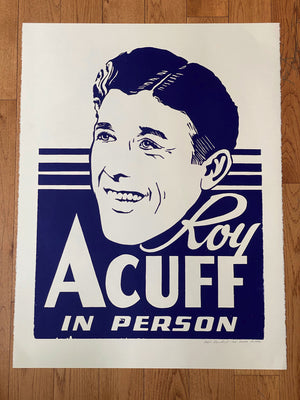 On Sale
Vertical Roy Acuff in Person Print
This Roy Acuff in Person print features a beautifully detailed portrait of the King of Country Music and speaks to the history of Grand Ole Opry members and their time as touring country musicians.

When the Grand Ole Opry hit the airwaves and broadcast the music across the nation (to at least 30 states, as far away as Alaska!), the artists who performed live and in person each Saturday night were heard by millions.
When it was time to tour, these artists turned to Hatch Show Print to help put their faces in front of the audience as well, in the form of stunningly designed portraits in their advertising, adapted to letterpress printing from press kit head shots.

Will T. Hatch and his staff had plenty of opportunity to perfect their skills in reducing the lighting of black and white photos into two colors, and Roy Acuff was no exception. While the second print block for this particular poster has gone out walkin', the remaining block, which we hand ink for each print today, still makes for a beautiful print for the man dubbed the King of Country Music.
Designer's Notes

Approximate Size: 30.5" x 41.25"
Restrike of historic advertisement.
Letterpress print.
Printed on a Babcock Optimus 6 (originally) and a Vandercook 28-42.
Handmade in Nashville, Tennessee.