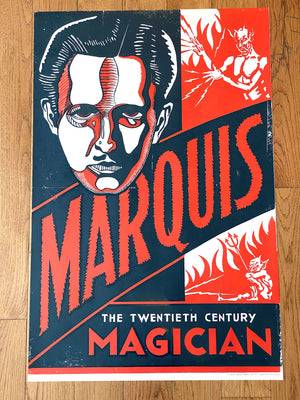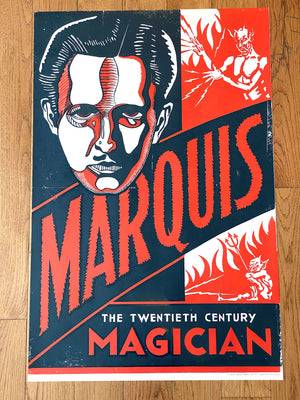 On Sale
Marquis the Magician Print
Two devils and the mysterious mug of Marquis the Magician were probably enough to fill the seats, but it's no wonder that George Marquis (the magician) called upon Hatch Show Print for over twenty years-the span of his career-with the attention to detail that was applied to the artwork for this pair of print blocks, such as the electrifying yet legible lettering on this two color, one sheet advertisement for Marquis' shows. The details of when, where, what time, and how much, would have been printed on a second sheet to hang with this poster.
Today, the print blocks are hand inked when printed. 
This particular pair of print blocks were carved in 1933 for the magician, whose career basically disappeared by the late 1950s. 
Designer's Notes
Size: 26" x 40"
Restrike of historic advertisement.
Letterpress print.
Printed on a Babcock Optimus 6 (originally) and a Vandercook 28-42.
Handmade in Nashville, Tennessee.