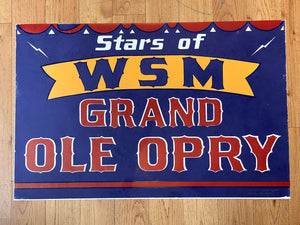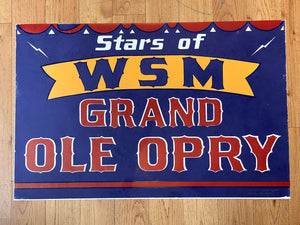 On Sale
Horizontal WSM Grand Ole Opry One-Sheet Print
This one sheet print is a portion of the original advertisement Hatch Show Print created to announce an upcoming show of touring artists from the Grand Ole Opry. Hand inked in three colors, the stylish lettering that is associated with the Opry pops off the paper.
Hatch Show Print has had a close association with the look of the Grand Ole Opry from very early in its history as the longest running radio broadcast in the USA. The shop provided them with the variety of printed material they would have needed for their weekly shows—tickets, signage, paper fans—but the connection between these iconic Nashville entities is more widely recognized in the millions of advertisements Hatch designed and printed for all of the stars of the Grand Ole Opry to advertise their tours.  
Today, the blocks are inked by hand, and that allows the printer some artistic license. This print takes only two print blocks to produce, but there are three colors in it.
Designer's Notes
Size: 40" x 26"
Restrike of historic advertising blocks.
Letterpress print.
Printed on a Vandercook 28-42.
Handmade in Nashville, Tennessee.