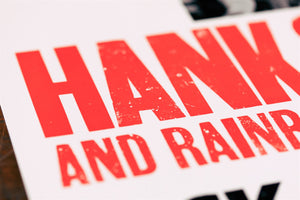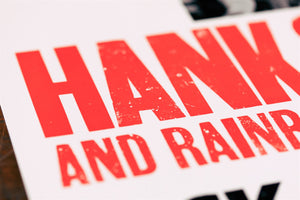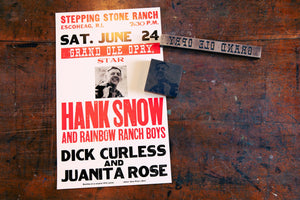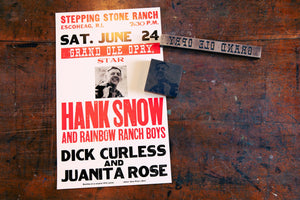 On Sale
Hank Snow Poster
This Hank Snow Concert Poster exemplifies the classic show poster style of the mid-twentieth century. Including a photograph of the performer at the top of the bill, headline-size wood type, and a well-carved banner that would have been used for different shows as needed, the historic restrike, or reprint, captures the spirit of Hank Snow's performance and the adaptability of letterpress design.

One of country music's most popular stars. Hank Snow's magnificent recording career encompassed more than 800 recorded songs between 1936 and 1980. His tenure as a star of the Grand Ole Opry stretched from 1950 to his death in 1999 at age 85. Snow was a regular customer of the shop throughout his career and was able to tour under the banner of the radio show heard from coast to coast.
This poster was created for a show in Rhode Island that dates from 1972.
Designer's Notes
Approximate Size: 13" x 22"
Actual size may vary
Restrike of a historic show poster.
Letterpress print.
Printed on a Vandercook Universal I, or Miehle 29.
Handmade in Nashville, Tennessee.