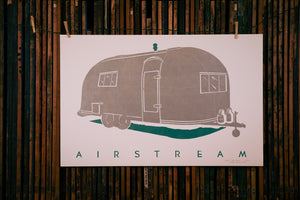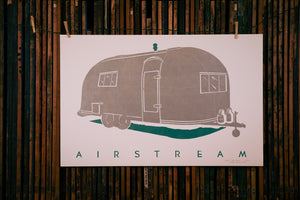 On Sale
Airstream Print
This Airstream trailer print originally served as an advertisement for Fulton Trailer Sales and has since become one of the classic Hatch Show Print images. Today it serves as a reminder of the glory days of American automotive vacationing, with the print's silver metallic ink beautifully mimicking the aluminum coachwork of a real Airstream trailer.
The block was hand-carved in 1959 after being commissioned by longtime Hatch Show Print bookkeeper Mai Cook Fulton, who, alongside her husband, also owned and operated Fulton Trailer Sales. Mai also commissioned the Ritz-Craft, Landola, and American Trailer prints to advertise their business. 

Designer's Notes
Size: 40" x 26"
Letterpress print.
Printed on a Vandercook 28-42. Inked by hand.
Handmade in Nashville, Tennessee.