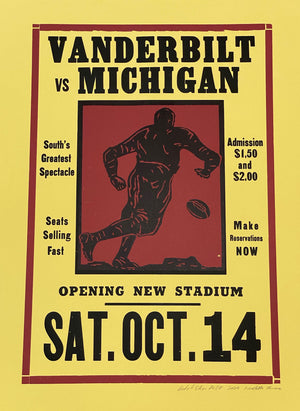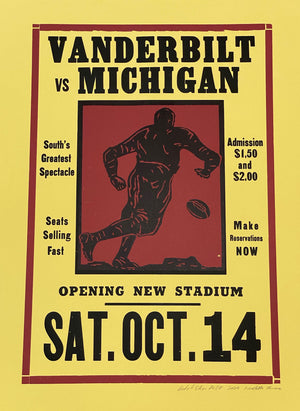 On Sale
Vandy vs. Michigan Print
A truly stunning throwback, this historic restrike, or reprint, is the perfect piece of sports memorabilia for Vandy fans and for fans of football everywhere.

The block for this design was carved in 1922 to celebrate the first football game played at Dudley Field, the new Vanderbilt Stadium, but the level of detail in the hand-carved football player is just as captivating as the history of the game commemorated by this reprint. A football was thrown out of a low flying airplane to see which team would get the first possession as "twenty-thousand raving fans" turned out to watch Vanderbilt hold perennial powerhouse Michigan to a scoreless tie. Cornelius Vanderbilt was also in attendance, and the coaches were friends at the time.
Designer's Notes
Size: 20.75" x 29"
Letterpress print.
Printed on a Vandercook 28-42. Inked by hand.
Handmade in Nashville, Tennessee.