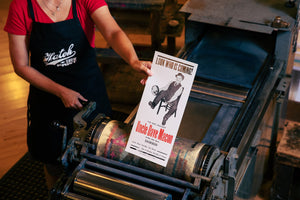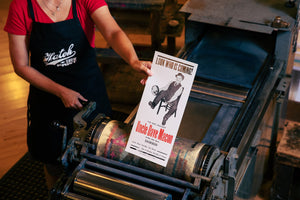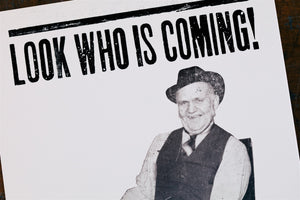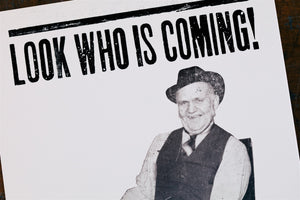 On Sale
Small Uncle Dave Macon Poster
This historic show poster embodies the lively spirit of the grandest of the Opry's grand ole entertainers, Uncle Dave Macon, captured with eye-catching type and a wonderfully detailed photograph of "The Dixie Dewdrop" handling the banjo. 
A popular star of the Grand Ole Opry from 1925 until his death in 1952 at age 82, Uncle Dave was a showman from the old school, having learned his musical trade from traveling vaudeville musicians who stayed at his parents hotel.

Among the Opry's performers, Uncle Dave was one of Hatch Show Print's first customers when it came to purchasing advertising for his shows. He understood the value of a good poster to get the word out. 
Posters in this size were often called pole cards. They could be tied or tacked to street lights and telephone poles, and it was still easy to read all of the information in the ad. As the poster says, Uncle Dave handles the banjo like a monkey handles a peanut!
Designer's Notes
Approximate Size: 7" x 15"
Actual Size may vary
Restrike of a historic show poster.
Letterpress print.
Printed on a Vandercook SP-15, or Miehle 29.
Handmade in Nashville, Tennessee.