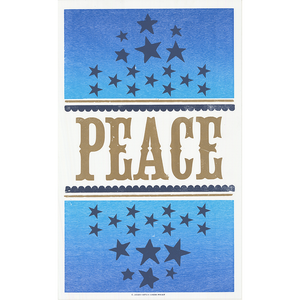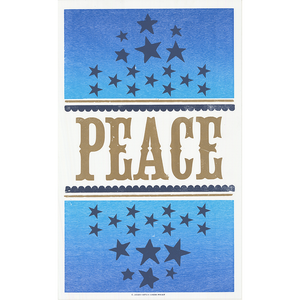 On Sale
Peace Holiday Poster
Celebrating one of our most savored reasons for the season in this busy print shop, the 2023 limited edition holiday print has been conjured from the blue tones of winter's crisp dawn mixed with the starry night's metallic gold.
Applied to textured wood printing blocks, a dash of fantastic old wood type, and a liberal sprinkling of stars--some carved in wood and linoleum while others are neatly arranged in metal printing plates.
The gradient or split fountain design is achieved in one pass on the printing press, making the process of feeding the press just a bit more joyful! Hand-cut stars add a glimmer of festive spirit and encourage PEACE among those near and far.
Happy Holidays from Hatch Show Print!
Designer's Notes:
Approximate Size: 13.5"W x 22"H

Letterpress print.
Printed on a Vandercook SP-15 and 232.
Handmade in Nashville, Tennessee.