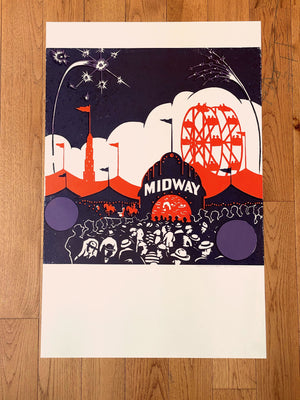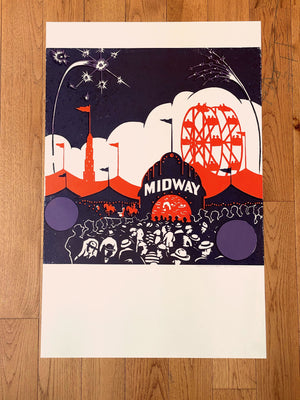 On Sale
Moroccan Midway Print
A mid-century carnival advertisement, the Moroccan Midway print is a classic example of the customization of letterpress printing. This carnival or fair midway scene would have been featured in a sample sales kit for one-time or infrequent customers of Hatch Show Print to purchase. Any pertinent local information would have been added to the bottom of the print using movable wood and metal type. 

A Moroccan Midway offered the enchantment of traveling to foreign fields without leaving the county fair; exotic animals, interesting foods, and visitors from those far-off places would have been a delight to the senses, and peering back through the decades, they're all full of that possibility to us, so we've named this print Moroccan Midway. 
Today, the blocks are inked by hand, and that allows the printer some artistic license. This print takes only two print blocks to produce, but there are three colors in it.
Designer's Notes
Size: 26" x 40"
Restrike of historic print block.
Letterpress print.
Printed on a Vandercook 28-42.
Handmade in Nashville, Tennessee.