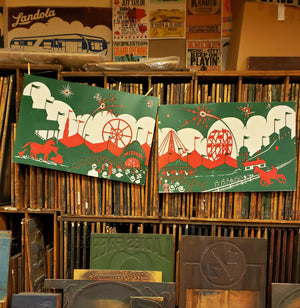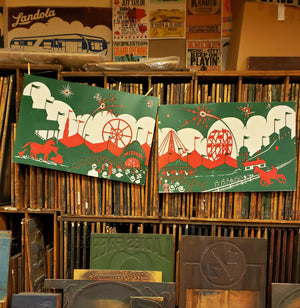 On Sale
Carnival Advertisement Two-Sheet Print
Can you smell the deep-fried Twinkies?
The four wood printing blocks it takes to produce these prints were carved in the shop in the 1930s or 1940s. The resulting prints would be accompanied by another sheet or two that carried all the pertinent details--the name or the fair, the location, dates, and possibly any features, such as the appearance of a Grand Ole Opry star, set and printed using the shop's wood type.
Pasted up on barns, fences, or brick walls in the mid-twentieth century, the fun depicted in this print was just the enticement needed to get folks out of the coal mines, off the tractors, out from behind the stoves, and onto the fairgrounds to spend a Saturday afternoon or evening taking in all the fair had to offer. The midway rides, including high-flying airplanes, a merry go round, and Ferris wheels are flanked by the grandstand and a harness facing duo rounding the track. The silhouettes of tents in the background allude to entertainments galore, and one of them is certainly where our five feathered or four-footed friends in the bottom left corner should be!
Designer's Notes:
Size: 80" x 26" (two sheets, each 40" wide)
Restrike of Historic Advertisement
Letterpress Print
Printed on a Vandercook 28-42
Handmade in Nashville, TN