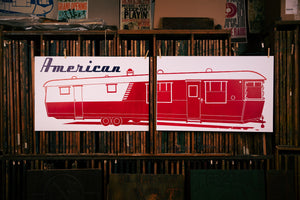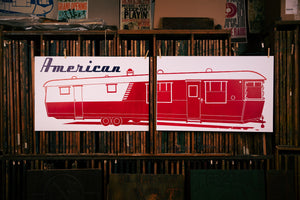 On Sale
American Trailer 2-Sheet Print
It takes two sheets to capture the majesty of the mid-century American Trailer carving, completed in the mid-to-late 1950s as an advertisement for Fulton Trailer Sales. The classic design of the trailer sits perfectly as an ode to travel in today's world of the staycation. The "American" in the top left corner of the print, just as dreamy and streamlined as any trailer, provides a beautiful counterbalance to this two color restrike.

The 2-Sheet American Trailer was commissioned by longtime Hatch Show Print bookkeeper Mai Cook Fulton, who, alongside her husband, also owned and operated Fulton Trailer Sales. Mai also commissioned the Ritz-Craft, Landola, and Airstream Trailer prints to advertise their business. 

*Price does not include frame.
Designer's Notes
Printed on 2 separate sheets, 40" x 26" each.
Letterpress print.
Printed on a Vandercook 28-42. Inked by hand.
Handmade in Nashville, Tennessee.