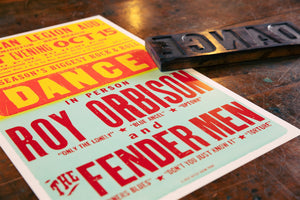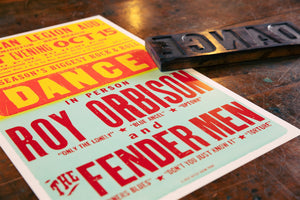 On Sale
Roy Orbison Poster
This reprint of a Roy Orbison show poster designed by Hatch in 1960 says it all about the vibrancy of Orbison's music; or, as Roy himself might have said, "Ooby dooby!"

When Orbison played this show in Farmington, New Mexico, on October 15, 1960, Blue Angel, his third straight hit of that year, was zooming up the charts into the pop Top Ten. His opening act was the Fendermen, then riding high on their Top Ten hit, Mule Skinner Blues, a rock & roll version of the famous Jimmie Rodgers/Bill Monroe tune.
This poster features a vibrant split-fountain background, in which multiple colors are applied to the inking rollers during the process of printing, and that results in a multi-colored background. From early in the twentieth century and going forward, the staff at Hatch would have created and carved a variety of blocks that printed like banners across a poster—like "DANCE" here—to grab the attention of the right audience for the event. It stands out on the split-fountain background. 
Designer's Notes
Approximate Size: 14" x 22"
Actual Size may vary
Restrike of historic show poster.
Letterpress print.
Printed on a Babcock Optimus 6 (originally) or a Miehle 29.
Handmade in Nashville, Tennessee.